Sale!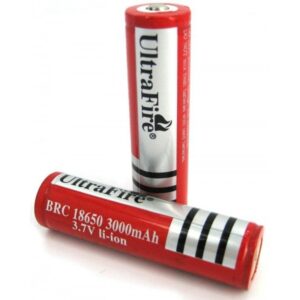 Ultrafire Lithium Battery
Protected 18650 3000mAh rechargeable 3.7 volt battery – charge with the Ultrafire Multi-Battery charger.
The advantage of this cell is that it features a button top making it particularly compatible with many flashlight applications.
Rechargeable Lithium batteries are rapidly becoming a very economical way to lower the operating costs of Lithium-Powered flashlights. We offer a number of different options in order to meet any rechargeable needs. These are Protected batteries.
These fully protected cells simplify usage with their integrated PCB. Perfect for your single cell application these cells are not for pack building as doing so will defeat the PCB protection which is matched to the correct voltage on a single cell. If you are building a pack please choose one of our other cells and the appropriate PCB.
Features and Benefits
Unique and New! With integrated PCB Protection!
Lithium Ion 18650 cylindrical rechargeable batteries
Internal PCB protection prevents under-voltage at 2.5V and over-voltage at 4.25V.
Unique PCB design and patent pending.
Higher energy density and lower weight than other types rechargeable batteries
Manufactured under ISO9001-2000 to assure quality
Battery tested based on International Electrotechnical Commission (IEC) standard to ensure capacity, quality and life time
Lighting or other device needing 3.7V power
Building portable power device needing high energy density and low weight
Product Specifications
Capacity: Nominal&: 3000mAh, Minimum: 2450 mAh
Internal PCB protection prevents under-voltage at 2.5V and over-voltage at 4.25V. UNIQUE INTERNAL PCB!
Dimensions:

Diameter: 18.6+/-0.2 mm *
Height: 66.5+/- 0.2mm

Weight (Typical) Approx. 46 g
Nominal Voltage: Average 3.7V
Cut-off Voltage: 2.5V
Internal Impedance: less or equal to 180 milli-ohm (with PTC)
Cycle Performance: 90% of initial capacity at 400 cycles
Cycle life: > 500 cycles
Charge: Current = 0.5C (~1500mA) Voltage = 4.2 V End Current = 0.01 mA
Discharge: Current = 0.5C (~1500mA) End Voltage = 3.0V