Sale!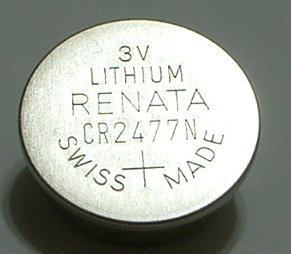 Renata CR 2477N Battery
Renata CR2477N 3V Lithium Coin Cell Battery
Highlights & details
3V
Lithium
Wholesale volume discounts available
Description
The CR2477N is a popular, high quality, long life 3V lithium coin cell battery from Renata, made in Switzerland. It has a 24.5mm diameter and is 7.7mm thick.
This cell comes packaged in individual packs of 1. We offer wholesale price breaks for 3, 5, 10, 25, 50 and 100 packs. Simply order your required number of packs and the discount will be applied automatically to your basket.
If you require this Renata coin cell in wholesale volumes greater than stated, please telephone our sales team on 0844 826 2850 or email service@conrad-uk.com for a no-obligation quote.
Features
Applications include calculators, organisers, pocket translators, film & photo equipment.
Please note: Due to air freight restrictions on lithium batteries, we are currently unable to send these batteries with 24hr or 48hr delivery.
Technical data
| | |
| --- | --- |
| Size | CR2477N |
| Technology | Lithium |
| Dimensions | (Ø x H) 24.5 mm x 7.7 mm |
| Alternative battery types | BR2477N, DL2477N, ECR2477N, KCR2477N, KL2477N, KECR2477N, LM2477N |
| Voltage | 3 V |
| Capacity | 950 mAh |