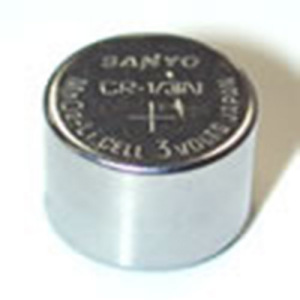 Sanyo 1/3N Coin Battery
CR-1/3N 3 volt Lithium photo battery
for cameras, toys, pet containment systems, and any personal electronics that use CR-1/3N lithium batteries.
Battery Specifications: Sanyo part number CR-1/3N 160mAh 3v lithium primary battery, non-rechargeable
Cross Reference: Duracell DL-1/3N, Ray-O-Vac 867, 2L76, Energizer 2L76BP, IEC CR11108, CR1-3N, DL1-3N, Dantona Comp 15, Duracell DL1/3N, NL1/3N, Energizer LR1/3N, Eveready 2L76, L76BP, I.E.C. 3V CR1/3N, CR1/3N, CR11108, Innotek M041101, Kodak K58L, National HM-N, NR-52, NEDA 5008L, 5008LC, Nikon F-1, Sony CR1/3N, Varta CR1/3N, FF3, R6, R7, R12.
Chemical System: Lithium Manganese Dioxide
Nominal Voltage: 3.0 volts
Operating Temp: -40°C to 60°C (0°F to 130°F)
Typical Weight: 3.3 grams (0.12 oz.)
Shelf Life: 10 years at 21°C (80% of initial capacity)
Dimensions: 11mm Height x 11.6mm Diamete